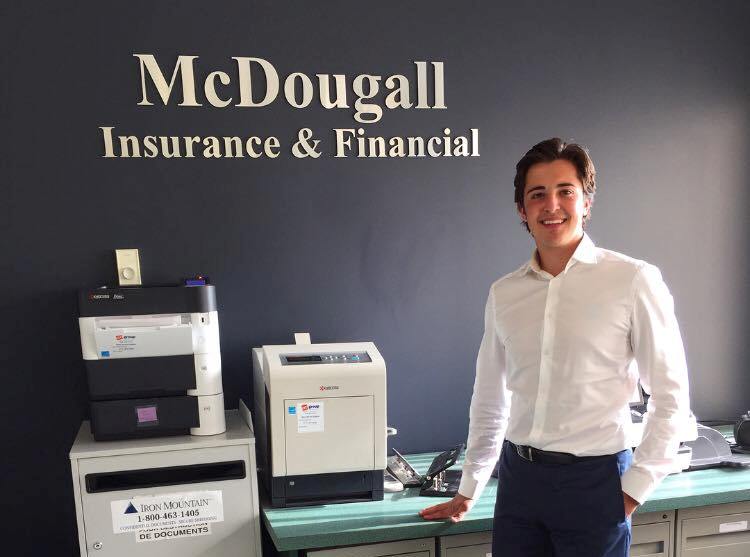 Meet The Dougallers: Ryan McKenna
Meet The Dougallers features our new kid on the block; Ryan McKenna. Ryan was just added to the McDougall Insurance Sales Team working out of our Kingston office. He is very eager to start selling insurance and building a strong reputation with his clients. Since neither of us know Ryan all that well, we sat down with him and did a Q&A to get a bit more information. Have a peek below and find out why Ryan McKenna is your guy!
Place of birth?
Kingston, Ontario born and raised.
Hobbies?
Boating, golfing, camping, and anything outdoors!
Favorite meal?
Stir-fry. Everything goes to the same place right? Perfect balance of carbs, fats and proteins.
Favorite saying?
"Do it once, do it right"
Favorite Sports team and why?
Toronto Maple Leafs – my grandfather tells me interesting stories about when they won the cup.
How did you get involved in insurance?
Surprisingly I did not fall into the industry like most people. Growing up with family in the industry, it had always been an interest of mine to pursue as a career.
What do you bring to the table to help your clients?
Customer service and technical knowledge – Customer service comes easy to me as I am incredibly enthusiastic when it comes to insurance. Also having worked as an underwriter before becoming a broker, I acquired a great amount of technical skills.
What do you think is important in a relationship with a client?
Understanding the customers needs. In insurance, not every client is the exact same. It is important to set up a personalized insurance product to tailor to the needs of each and every client.
What has been your favourite thing about working for McDougall Insurance?
The involvement that each branch has in their communities through fundraising and charity work. It makes me feel proud to be apart of the McDougall Team because I know I am doing my part to make a difference!
Favourite four-legged animal and why?
Dog – They're a man's best friend.
Who is your celebrity role-model and why?
Leonardo DiCaprio – His involvement as a environmental activist. Finally a big name celebrity that is taking a stand againt climate change. Shout out to Before the Flood it is an amazing movie!
Who would win a fight between Spider-man and Batman?
Spider-Man. Batman is just a rich guy with a wicked butler. Spider-man would wrap him up in seconds.
Anything else you would like to add?
I am a true believer in the independent broker system for providing the best value to insurance consumers. I love getting to know each one of my clients on a personal basis and I think I have the best opportunity to do that at McDougall Insurance.

?>
September 25, 2023
The Secrets of Ottawa Car Insurance
You are mandated to carry auto insurance as a driver operating a motorized vehicle on public roadways in Ottawa.  Car insurance is mandatory in all...