Get Free Auto & Car Insurance Quotes in Ontario Completely Online
Auto insurance is mandatory to carry in Ontario. Regardless of if you are the owner of your vehicle, are financing your vehicle or are leasing your vehicle you need to carry auto insurance. To get started you need to have an active Ontario driver's license. If you have a driver's license that is not registered in Ontario you will need to transfer your license at the Ministry of Transportation. There are many factors that go into determining the premium for your car insurance and the best way to find the right coverage for you and your vehicle is through the expertise of a car insurance broker. 
Get the best car insurance in Ontario with McDougall Insurance. We offer the cheapest car insurance for Ontario drivers and the easiest way to get it.
What Does Car Insurance Cover in Ontario?
In Ontario, car insurance is mandatory. The government regulates a certain minimum of coverage, after which point any additional coverage is optional. If you want cheap car insurance in Ontario, you can opt for the bare minimum – but what kind of protection would that give you? McDougall prefers to help you find affordable auto insurance in Ontario, not what's "cheapest." Car insurance gives Ontario drivers peace-of-mind while they're out on their daily commutes. 
Get an online car insurance quote in Ontario with McDougall. Just tell us a little bit about your vehicle and we'll handle the remainder. There's no worries when you have a McDougall expert in your corner. 
Mandatory Car Insurance Coverage in Ontario
In Ontario, the government regulates that individuals must carry the following coverage:
Liability for Bodily Injury
Liability for Property Damage
Direct Compensation
Uninsured Motorists
Accident Benefits
Liability Coverage protects you from damage you do to others or to property in a car accident. In Ontario, $1,000,000 liability is common, but at McDougall Insurance, our car insurance brokers and experts recommend that everyone should have a $2,000,000 liability limit. The cost of lawsuits continue to increase and doubling your liability coverage typically has a very minimal cost.  
If you want to get the cheapest car insurance in Ontario, you can technically suffice with what is mandatory alone, but that's not the kind of protection you'd want. Rather, you want affordable protection (which we can do for you!) and the best car insurance in Ontario possible. We get you the best rates for the best price.  
Get a Quote
No Fault Insurance For Ontario Drivers
In Ontario, we have something called no-fault insurance, which means regardless of who is at fault, each insurance company pays for the damage to each car. Part of your premium is for this protection. The idea behind the no-fault insurance process is to simplify the claims process so that your own insurance company handles your claim regardless of if you are at fault or not.
Accident Benefits In Ontario
The government includes basic medical benefits for all drivers to protect them in the event of injury. However, there are options to purchase additional coverage. We recommend you consider additional coverage, based on your health plan at work and your family's needs. Often time the standard limits are not enough especially in the medical, rehabilitation and attendant care portion of your accident benefits policy.
Experts estimate that 10-15% of drivers in Ontario do not carry auto insurance. Although, thanks to the technology in police vehicles that number is decreasing. Regardless, you need protection from these people who operate outside the law. Part of your premium is for this protection. Discuss any potential coverage enhancements with an auto insurance broker from McDougall Insurance.  
Get a Quote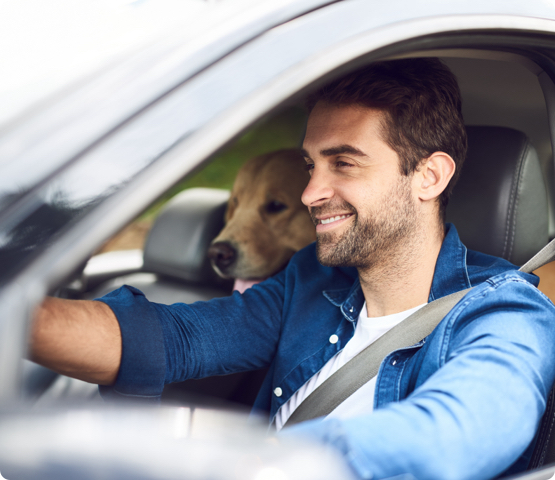 Collision Car Insurance Coverage Option
If you are in a car accident where you are deemed to be at fault, you need collision coverage to protect the physical damage to your own vehicle. This also protects you in a hit & run and parking lot accidents. This coverage is subject to a deductible, which means if you submit a claim under the optional collision portion you will be required to pay your deductible and then your insurance coverage will pay the rest. The standard deductible is $500 but you do have the option with most insurance companies to increase or decrease that amount. Work with a car insurance broker to determine an adequate amount for your vehicle.
Comprehensive Auto Insurance Coverage Option
Similar to collision coverage, comprehensive coverage is optional on your car insurance policy and can be added for an additional premium. Comprehensive coverage is also subject to a deductible and protects you from fire, theft, vandalism, falling objects, and collision with an animal. It also covers glass repairs and if you repair a glass chip before it cracks your insurance company will often waive your deductible. Again, an auto insurance broker can work with you to determine an adequate deductible based on your comfort level and budget.
Loss of Use Endorsement
Often referred to as OEF 20 the loss of use endorsement provides coverage that allows you to rent a car while your vehicle is being repaired. This coverage is typically very inexpensive and is helpful if you do get into a claim situation where you require a rental vehicle. Without this coverage, you will be responsible for finding your own transportation while your car is being repaired.
Liability For Damage To Non-Owned Vehicles Endorsement
This is the coverage you should have if you ever rent a vehicle while travelling. It saves you paying the rental car company insurance rates, which are usually per day. The coverage is good anywhere in Canada and the United States. For more details, make sure you ask your local car insurance broker before your trip as certain limits may apply!
Claims Forgiveness Protection
You have earned a good driving record. We want to see you keep it. Claims forgiveness allows you to protect your driving record and maintain your driver rating after an at-fault accident. Ask your friendly local McDougall car insurance broker about this endorsement.
Limited Waiver Of Depreciation Endorsement
This endorsement also referred to as the OPCF 43 will waive depreciation on new vehicles. This coverage can be applied for 24 – 48 months. This means that if your new car is in an accident a year or two after you buy it, you can replace it with a brand new vehicle or receive the value of your vehicle when you purchased it, not the depreciated value. This is an excellent coverage to help maximize the value you will receive in a claim situation for new vehicles. You will need to provide a bill of sale or purchase agreement to your insurance company to receive the endorsement.
To speak with a licensed professional about Auto Insurance Coverages, please call us at 1-800-361-0941.
Did You Know?

Some of our companies have discounts for short commutes.
Let us know how far you drive to work and you can save. Or, maybe you work in your home. No commute? More savings.
Get an online car insurance quote in Ontario to see how your shorter commute may translate into higher savings, or reach out to discuss with a McDougall car insurance broker today.
Yes, auto insurance is mandatory to carry in Ontario. In order to register a vehicle or renew your registration in Ontario you need to provide proof of insurance. If you are caught driving without insurance you will be fined and your license will be suspended. Don't risk it. Get auto insurance quotes with McDougall.
Great question! You can remove or reduce coverage off a vehicle if you are not driving it, but be aware that you need to add back liability coverage to make the vehicle road legal again. Even if you are not driving your vehicle it can still be a good idea to carry comprehensive coverage on the vehicle. This covers you from things like vandalism, theft, fire, wind and more. Many drivers who have summer vehicles choose to do this when they put the vehicle away for the winter.
Anyone with your permission and a valid driver's license can drive your vehicle in Ontario. Insurance policies follow the vehicle, not the individual, which means if someone gets into an accident in your vehicle it will be your policy that is impacted. If you want cheap auto insurance in Ontario, it's advised you stay mindful about who you lend your vehicle to so as to avoid any at-fault accidents adding to your driving record.
McDougall Insurance doesn't love the word "cheap" because it implies poor quality, and you should never have to suffice with "just enough" when it comes to your auto insurance. Instead, we prefer getting you affordable insurance so you can be confident on the road with the right protection – i.e., the best car insurance in Ontario over the cheapest.
Bancroft
Barrie
Barry's Bay
Brighton
Brockville
Carleton Place
Cobourg
Cornwall
Courtice
Crysler
Eganville
Embrun
Kemptville
Madoc
Midland
Morrisburg
Napanee
North Bay
Parry Sound
Pembroke
Penetanguishene
Perth
Petawawa
Picton
Prescott
Prince Edward County
Sudbury
Trenton
Winchester
What Our Customers Are Saying
Don & Leanne
Mike Cunha was wonderful to deal with on quoting my auto and home insurance. I would highly recommend this company and Mike for all your insurance needs.
Candy Campbell
Great broker at McDougall. Changed everything over. Dan will take care of you !
Gwelda MacDonald
After being with our previous broker for over 30 years we decided to switch in hopes of a better level of customer service and are extremely pleased with our experience with McDougall's. We recommend McDougall's to family and friends.
Debbie Gordanier
I have been very pleased with the efficient and friendly service that we receive. It's comforting to be able to pick up the phone and know I will get the answers that are required without hassle. Helpful, accommodating and always pleasant. I would recommend McDougall Insurance to others!
Rebecca John
McDougall Insurance has been the insurance brokerage I've dealt with since I started buying insurance policies in 2007. I have been extremely happy with the service provided by McDougall and their staff.
Eric Irvine
Been dealing with McDougall/Brister Group Winchester for at least the past 5 years and the service has been excellent. Our broker William Barclay is very helpful and helped us save money with the best possible insurance quotes and goes above and beyond with his customer service!
Gwelda MacDonald
After being with our previous broker for over 30 years we decided to switch in hopes of a better level of customer service and are extremely pleased with our experience with McDougall's. Their representative, LesLee MacDonald, is proactive with regards to our evolving needs, personable and highly professional. We recommend McDougall's to family and friends.